As the dust settles, a strong digital appetite is emerging amongst US financial institutions who are increasing focus and spend on digital capabilities, customer onboarding, and product origination.
The COVID-19 pandemic has reshaped how banks interact with their customers. This is particularly true in the US, which has more financial institutions that any other country and a total market size in the range of the European Union (EU).
Many of these financial institutions have been busy over the last year taking part in comprehensive government-backed lending programs, which have fuelled new relationships with small businesses and consumers.
The most prominent is the Paycheck Protection Program (PPP), a $953 billion business loan program established by the US government in 2020 to help businesses, self-employed workers, sole proprietors, and non-profit organisations to continue paying their employees. In just four months last year, more than five million US businesses received a PPP loan.
The pandemic has fuelled financial innovation, changing the art of the possible. One eye-opening statistic from a recent Celent report is that 5,400 financial institutions – one-third of lenders in the US – are supporting almost three million borrowers with a lending product that simply did not exist a few months ago. Another staggering fact is that 14 years' worth of loans were processed in just 14 days at one point last year.
These figures highlight the profound impact that COVID-19 has had on demand for borrowing as people battle the economic effect of repeated lockdowns. Financial institutions have had to adapt and become more agile in order to meet this demand, which has also resulted in a host of new customers that they now want to retain.
Driving digital forward
Faced with these challenges, the Celent Covid-19 Banking Insight Panel highlighted that the majority of US financial institutions have maintained (44%) or increased (39%) their IT budgets in order to facilitate the digital transformation required to effectively service these customers.
The research has made it clear that 2021 will be led by digital channel and operational efficiency projects, with digital customer acquisition and onboarding a high priority.
As seen in the chart below, in terms of priority focus areas for IT strategy this year, respondents to a Celent study commissioned by ezbob identified 'enhancing digital self-service capabilities' (97%), 'improving digital products and onboarding' (77%), and 'operational efficiency/cost reduction' (71%) as the top three by some distance.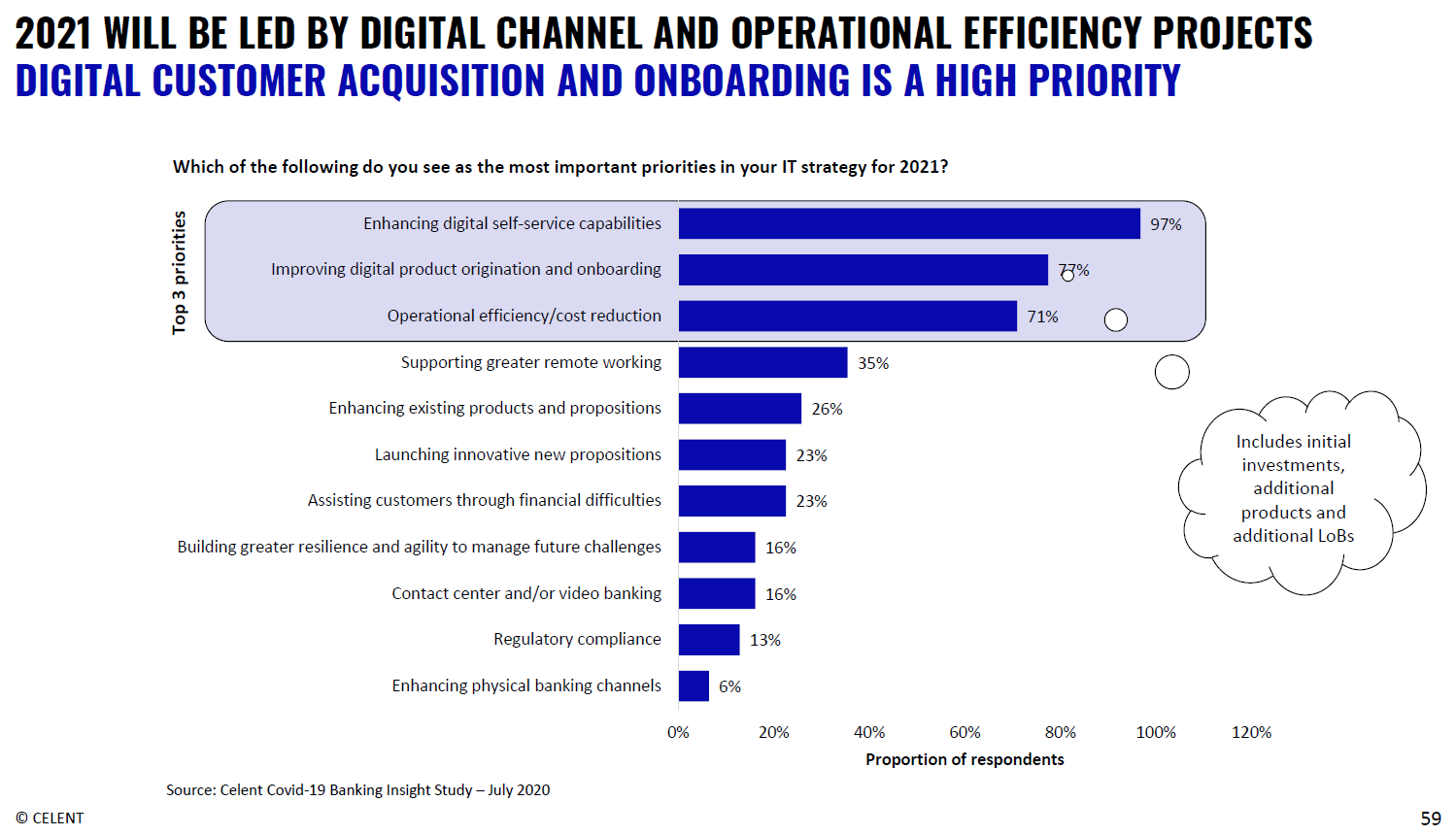 When asked about investment, 69% said they would be increasing spend related to digital customer onboarding and product origination, compared to just 24% that will be investing in physical branches. The direction of travel is clear.
Partnering with Ezbob
Digital transformation unlocks new standards for excellence in customer experience, greater speed and agility, and lower operating costs. If banks and other financial institutions do not act now to improve their existing digital services, they risk losing a vital revenue stream as customers switch to other providers with better offerings.
At Ezbob, we provide innovative, affordable cloud-based banking solutions that democratise access to help financial institutions of all shapes and sizes to stay competitive.
We have successfully helped a number of UK and European banks to meet the digital challenge, for example Metro Bank and Intesa San Paolo, which now have digital lending platforms that perform at the level of the best in the business. This year, we are expanding our operations in the US to help the country's financial institutions to grab the digital opportunity.
Get in touch today to learn more about our award-winning lending solutions, and how we can help you to digitalise your processes.