Industry research highlights that SME lending in the UK is dominated by five Tier 1 banks that small companies know very well and therefore offer a comfort factor. How can smaller financial institutions break into the circle and help provide the finance that SMEs need as they lead the economic response to COVID-19?
SME lending in the UK market is currently dominated by five prominent banking groups: NatWest Group, Lloyds Banking Group, Barclays, Santander, and HSBC. Recent findings from the Competition and Markets Authority (CMA) reveal that these five groups account for approximately 80% of the value of SME loans in the UK.
Small business owners have grown up with these big banking names and trust these brands to support their financial needs. A study by the British Business Bank (BBB) has found that only 40% of SMEs contact more than one bank when thinking about financing. When they seek loans, the majority consider only their current account provider. This points to the importance of an existing relationship.
And this begs the question of what the myriad other financial institutions can do to gain market share in SME lending, especially amidst high demand: according to HM Treasury, UK firms have taken out more than £70 billion in loans since the pandemic began.
Interestingly, the BBB study also noted that amongst those who have contacted finance providers other than the Big Five, one in five contacted a challenger bank.
These challenger banks are setting new standards for excellence in customer experience, speed, and lower operating costs that other financial institutions must now match to stay competitive. It's for this reason that the larger financial institutions, like the Big Five, are spending heavily on digital lending transformation. The pandemic has further accelerated this shift to digital channels and the need for rapid digital transformation.
The big banks are well aware that SMEs value the convenience and speed that challenger banks offer. For this reason they are investing in their lending infrastructure to match this and further build on the existing, positive relationships they have with small business owners.
The BBB study revealed that ease of convenience of the application process, as well as speed of application and approval, are the main drivers when it comes to borrowers recording a positive experience. These are therefore the elements that Tier 2 and Tier 3 banks must harness to secure their slice of market share.
SME lending: reasons for a positive experience (%)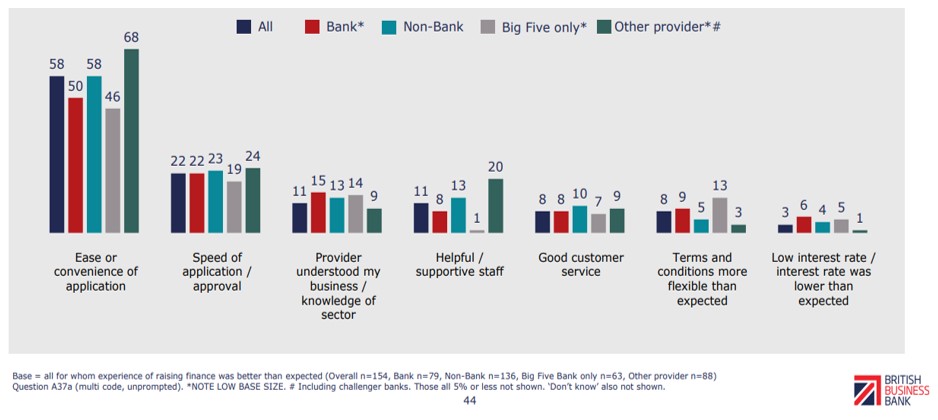 To remain competitive and grow in these challenging economic times, smaller financial institutions must quickly implement affordable solutions that improve the customer experience, speed up the decisioning process, and lower their operating costs.
At Ezbob, our cloud banking software democratises access to the latest digital lending technology by removing some of the cost barriers.
Thanks to our experience as a lender, we know exactly what your SME customers are looking for. We offer an affordable onboarding and credit decisioning service platform designed for financial institutions operating in the UK. It will help you to increase sales (account openings/lending) and profitability by using advanced AI-powered decisioning analytics and automation.
It reduces cost per loan whilst also greatly enhancing speed and customer experience (less data entry, immediate decisions). So it's a win-win for both your institution and your customers, providing a lifeline to SMEs as they battle the ongoing effects of the pandemic.
Get in touch today to find out more about how our award-winning lending solutions can help you to digitise your processes and transform your lending offering.