Today people are expecting the same ease-of-use and convenience that tech leaders such as Amazon and Google provide them in their everyday lives. How they interact with financial services providers is no different. Yet the abundant evidence is that most banks have a long way to go before they can claim to be meeting these increasingly demanding customer expectations.
Finder.com's 2020 banking adoption report predicted that within five years, 44% of UK adults will have a digital-only bank account. This isn't at all surprising when you consider the exponential growth rates enjoyed by the newer digital banks, such as Monzo, Revolut, and Starling.
Challenger banks are setting new standards for excellence in customer experience, speed, and lower operating costs that all other financial institutions must match in order to stay competitive. One of the big advantages that they offer is a much smoother online journey involving less form filling and time spent waiting for decisions on important matters such as loans and lines of credit.
To illustrate, research by user experience (UX) consultants 'Built for Mars' revealed that it takes five times as many clicks to open a bank account with First Direct than it does with Revolut. The challengers also require much less data gathering – for example, HSBC still requires that a new customer provides their last three addresses, whilst Metro Bank just needs a current address, and then lets its advanced data analysis do the heavy lifting.
The evidence also suggests that SMEs (small and medium size enterprises) are also seeking convenience when it comes to business banking. A recent study by the British Business Bank highlighted that 'ease of application' is the third most important factor (behind 'existing relationship' and 'interest rates offered') when it comes to choosing a lender. And 'ease or convenience of application' was the number one driving force - by some distance - for a positive lending experience (see chart below).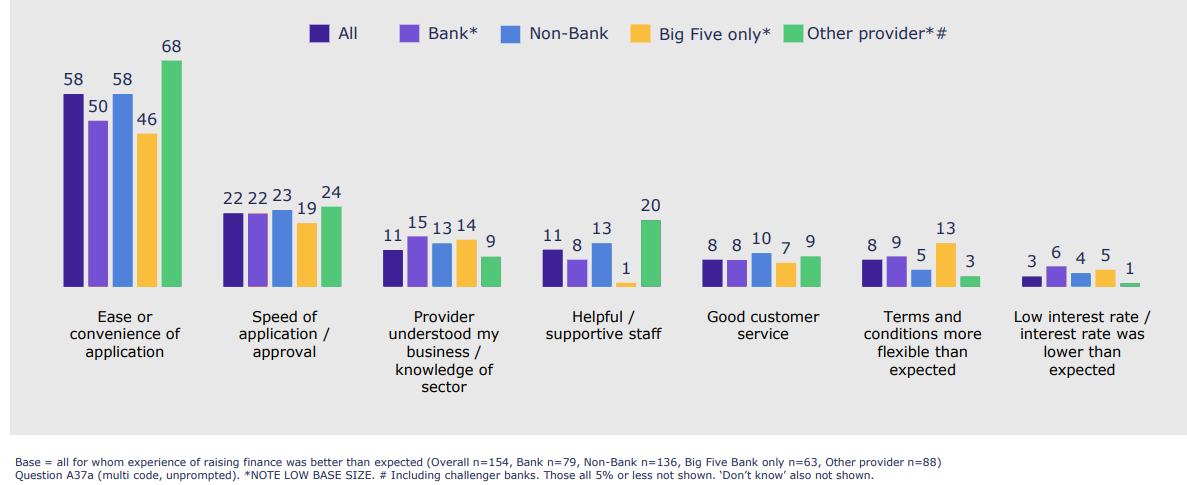 Banks need to react to what their customers are telling them. If they don't, the consequences are serious. A new study from Signicat has found that European financial institutions are losing almost two-thirds of applicants during onboarding.
Signicat's research, conducted at the height of COVID-19, saw the abandonment rate increase to 63%, an increase of 23 points from 2019, with one in five abandonments due to a lengthy and complicated onboarding process.
Joining the dots
Ezbob can help banks and other financial institutions to transform the lending experience by simplifying and shortening the new customer application journey and in turn reduce a bank's application abandonment rate.
Ezbob recently unveiled Ezbob Express, a new product that helps the UK's banks and other financial institutions offer a modern, seamless application user journey.
Ezbob Express is an affordable onboarding and credit decisioning platform that leverages a smart user interface, integrated data sources, and AI-powered decisioning analytics to provide a superior digital customer experience. The result is an improvement in application completion rates and instant SME lending decisions for hard-pressed SMEs needing access to funds – especially during the Covid-19 pandemic.
The platform reduces operating costs for lenders by up to 60% through STP automation and embeds bank-grade risk and customer assessment functionality. It achieves outstanding results by drawing on over 40 real-time data sources to reduce the amount of customer requested data by 75%.
Get in touch today to find out more about how Ezbob Express can help you to digitise and automate your customer application processes so that you can provide a better UX and immediate decisions to applicants.